Buggytour and Quadtour the Best way to diccover the island Mallorca
Experience a Buggy or Quad excursion in the north of Mallorca!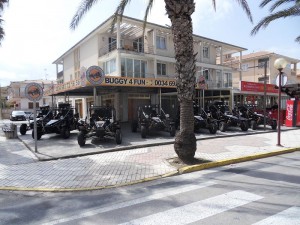 Are you in the mood to experience the island of Mallorca in a very special way?
If yes then our guided quad or  Buggytour/ excursion is the best alternative to the overcrowded bustours of mass tourism. Here you can experience the beautiful landscape of Mallorca up close.

We offer our tours throughout the entire year. In the off season (November-March) we ask you to book by phone.



We will show you the most beautiful spots. Deserted beaches, deserted monastaries, mountain serpantines, old castles and steep cliffs. Mainly we will drive on side tracks and asphalt wood tracks, but no offroad.  If young or young at heart, if first timer or regular visitor, you will always have a lot of fun on our excursions.
We will take plenty of breaks on our tours so that you can also take plenty of photos of the beautiful landscape or have a cold drink and wash off the dust of the roads.
Safety is our first rule, that's why our vehicles are serviced daily and we only ride on asphalted tracks. That's why you don't need dust masks or helmets on our tours. You only need a valid drivers license.
On 3 different Buggytours we will show you the sights like Emita de Betlem, Castle San Salvador and the steep cliffs of Formentor and much more.
Our current video
You can find Buggy 4 Fun Can Picafort / Mallorca everywhere near you. No matter if you are from Playa de Muro or Porto Alcudia, from Son Baulo or Son Serra de Marina. It's only about 5–10 kilometers from there. From Cala Ratjada and Cala Equada or Arta and Pollenca it's also only about 10 -20 kilometers. We can pick up, up to Cala Sant Vicenc and Colonia de Sant Pere. We are about 50 kilometers from Palma de Mallorca. So you see, you can enjoy your buggy or quad excursions from almost anywhere in Mallorca.
---