Our buggy tours to the most beautiful places of Mallorca
Tour 1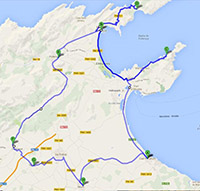 "Tour1" begins in CAN PICAFORT. We drive through PORTO ALCUDIA to the monastery LA VICTORIA. From there we will havea breathtaking view of the bay of POLLENCA. Now we will drive along the coast through PORTO POLLENCA towards CAP FORMENTOR. After an exciting serpentine drive through parts of the TRAMUNTANA mountains, we will show you the probably most spectacular view of the island. In front of a wonderful backdrop, with views of the oceanand pictures que bays, we can enjoy an unforgettable moment. Now we will drive through sidetracks to the Finca CA'N SUREDA of Peter Maffay, a german singstar. There we will have a tour and get information about the property and his charity. Here we will stay with the possibility to eat some organic cuisine courtesy of the Finca. Through land clearing paths and sidetracks we will drive through idyllic little villages to the wetlands ALBUFERA.From here we will drive back to CAN PICAFORT.
---
Tour 2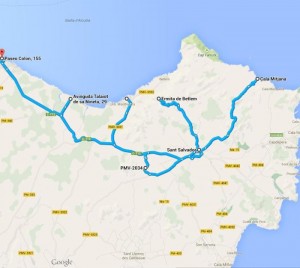 Tour 2 starts in Can Picafort and will take us to COLONIA DE
SAN PERE first. In this little fishing village we will enjoy the
breakers along the north coast. Then we will continue to the Castle of
SANT SALVADOR near the village of ARTA. Looking across the
valley to the coast you can expect spectacular views from the castle's
ramparts. From there we will continue on a serpentine drive to a
monastery. On the way, we can will enjoy
spectacular views. Now we will drive back through Arta towards CALA
MITJANA. Along the way, we will stop to replenish our strength at a
local mountain restaurant. We will drive directly along the beach of Cala
Mitjana and than back to ARTA. Through highways, sidetracks and land
clearing paths we will drive to SON SERRA DE MARINA, to the
biggest natural sand beach of the island. After this experience will drive
back to CAN PICAFORT where we will round off our tour.
---
Tour 3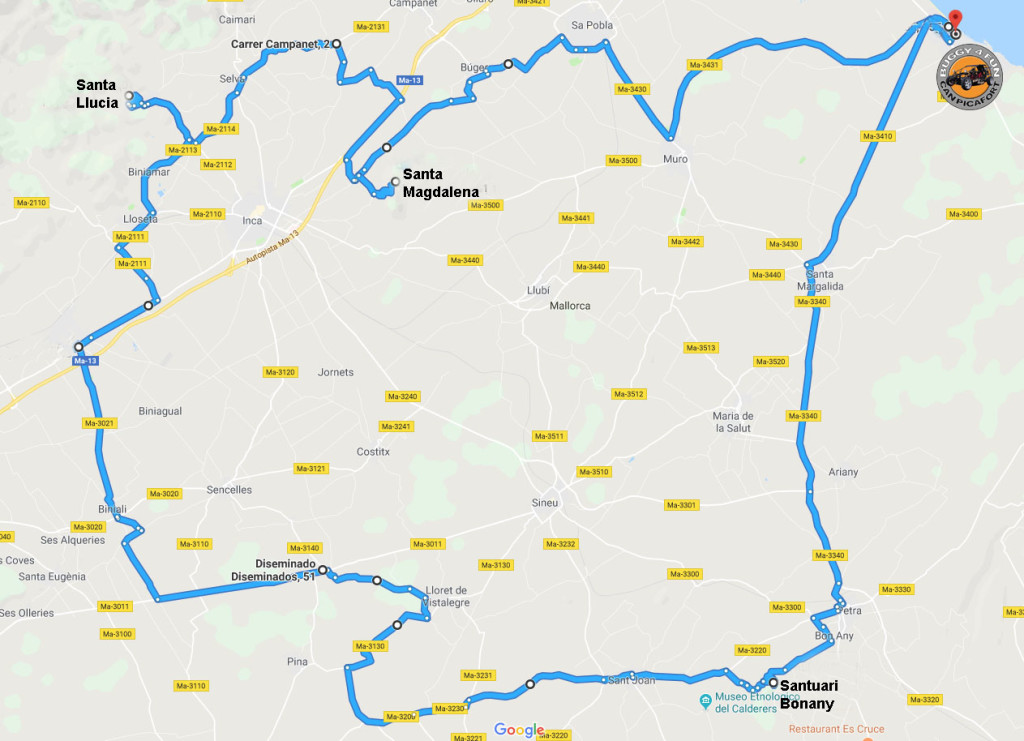 "Tour 3" starts in Can Picafort and drive via Sa Pobla to the monastery Santa Magdalena.
There we will have a spectacular view over the valley of Inca.
We continue on side routes through nostalgic villages to the monastery Santa Llucia.
Located at the foot of the Tramuntana mountains the view over the hilly landscapes is fascinating.
After a stop for refreshments we will drive to the monastery Bonany by Petra.
This serpentine route with view and driving fun will surely enchant you.
From here we will return to Can Picafort and the impressive tour will end.
---
On all tours on Mallorca we will have 3 to 4 breaks. After all we are on vacation and not in a rush. During the breaks we will have the opportunity to take beautiful pictures, smoke a cigarette, drink something and just enjoy the view. The duration of each tour are 4-5 hours.

---